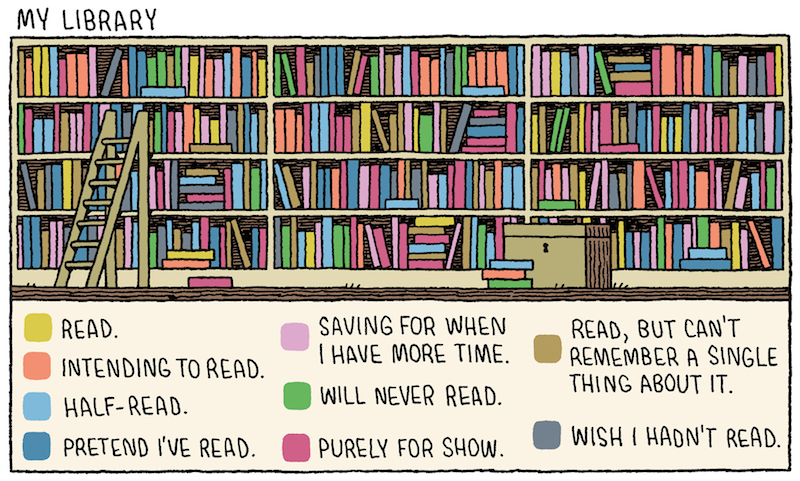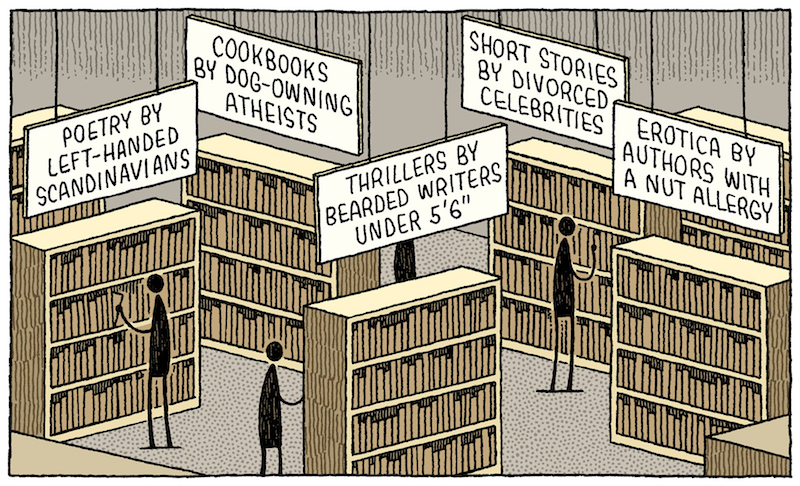 By color? By genre? By size? Minimally? Maximally? Anyway they'll all fit? Or what about with the spine turned in? And how about in the fireplace? There's a lot of options, and while there's probably not necessarily a wrong way to do it, these articles and images tackle a classic bibliophile's dilemma: How to (and how not to) organize your shelves.
These articles from The Millions and from Book Riot offer a variety of ways (with polite pros and cons) of organizing your shelves.
Rainbows are pretty, it's true. But does it make functional sense to organize by color? This article from Apartment Therapy argues for color organization, while contributors to this lengthy reddit forum call it blasphemy.
If you have a lot of books, you might opt for organizing them so that they'll fit. These articles from Tiny Ass Apartments and Life Storage discuss space-saving techniques. I stack all my books horizontally in order to maximize shelf space.
You may have heard of this new "spine-in" trend. This Guardian article and this TODAY articletear the trend apart, while this Lit Hub article defends the trend. Here's a whole slew of pretty pictures of these backwards books to persuade or disuade you from the trend.
When you've assessed or re-assesed your organization methods, check out this article by Bustletelling you what your book organization says about you.